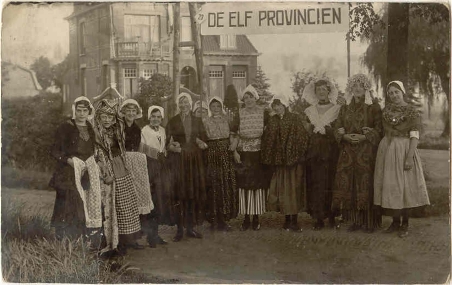 Welcome to the Rolffs family website.
(English)
This website deals with the descendants of Heinrich Ludolph ROLFFS who was married to Dorothea Agenesse MINABERS and had a least one child, Johan Herman (Jan) Rolffs. Johan Herman was born in Nodholz, Nedersaksen(?), Germany about 1762. I hope to find more ancestors of Heinrich and Dorothea once I figure out how to undertake genealogy research in Germany. A German genealogist told me that Rolffs is a patronymic name, rather like Williams, i.e. William's son. It therefore could be a common surname in Germany. The family eventually settled in Noord Brabant in the Netherlands, mostly in Raamsdonk, Sprang-Cappelle and surroundings. My grandmother, Cornelia Dijkgraaf-Rolffs, was born in Raamsdonkveer. She turned 100 in 2009.
Much of this information has been collected by my brother Coen (Colin) Dijkgraaf since we both became interested in genealogy in July 1996. Other non-Rolffs parts of our family tree can be found on
www.dijkgraaf.org
and
www.dijkgraaf.org/smouter
.
I was also lucky enough to find a book compiled in 1983 by Dorothy Vos-Rolffs that details the branch of the Rolffs family that left for the United States in 1914. My Grandmother can still remember that her father brought his brother, Hendrik Ludolf ROLFFS, and most of the family to the boat in Rotterdam. I hope to gather more stories about the family Rolffs and publish these here also.
This website only shows limited details for people that are still alive. If you are working on a related family tree and would like to find out more details then please contact me at the email address below. If you have more information that you are willing to share, or find any corrections then please let me know.
In the mean time, please enjoy your visit.
Astrid van Meeuwen-Dijkgraaf.
Welkom op het Rolffs familiewebsite.
(Nederlands)
Deze website bescrijft de nakomelingen van Heinrich Ludolph ROLFFS die met Dorothea Agenesse MINABERS gehuwd was en op z'n minst een kind Johan Herman (Jan) Rolffs had. Johan Herman was ongeveer in 1762 geboren in Nodholz, Nedersaksen(?), Duitsland. Ik hoop meer uit te vinden over de voorouders van Heinrich en Dorothea zodra ik heb uitgevogeldt hoe ik genealogieonderzoek in Duitsland kan ondernemen.Een Duitse genealoog heeft me verteldt me dat Rolffs een patroniemische naam is, zoiets als Jans, d.w.z. de zoon van Jan. Het zou daarom een veel voorkomende naam kunnen zijn in Duitsland.
De familie heeft zich in Noord Brabant in Nederland bevestigt, veelal rond Raamsdonk, Sprang-Cappelle en omgeving. Mijn grootmoeder, Cornelia Dijkgraaf-Rolffs, was geboren in Raamsdonkveer. Zij vierde haar 100st verjaardag in 2009.
Veel van deze informatie is verzameld door mijn broer Coen (Colin) Dijkgraaf sinds wij allebei in genealogie geinteresseerd werden in Juli 1996. Andere gedeelten van de familie stamboom (anders dan Rolffs) kunt U op
www.dijkgraaf.org
en
www.dijkgraaf.org/smouter
vinden.
Ik had ook geluk om een boek te vinden, door Dorothy Vos-Rolffs gecompileerd 1n 1983, die één tak van de familie Rolffs detailleert die in 1914 naar de Verenigde Staten zijn vertrokken. Mijn Oma kan zich nog herinneren dat haar vader zijn broer, Hendrik Ludolf ROLFFS, en familie naar de boot in Rotterdam bracht. Ik hoop om meer verhalen over de familie Rolffs te verzamelen en deze hier ook te publiceren.
Deze website toont beperkte details voor mensen die nog in leven zijn. Als u aan een verwante stamboom werkt en meer details wilt ontvangen neem dan kontakt met mij via het onderstaande email address. Als u meer informatie heeft dat u bereid bent om door te geven, of U vindt correcties, laat het mij dan ook even weten.
Ondertussen, ik hoop dat U dit een leuke website vindt.
Astrid van Meeuwen-Dijkgraaf
Email: